Whew… what a whirlwind of a couple of weeks. Colony and lots of painting time…then home to develop some kind of chest cold that laid me out for a week. Then down to Houston to the Hunting Art Prize Gala. It was a great experience. The time was far too short for all the artists to really get around to see all the work as you should have. It was nice meeting so many people who love to look and talk about art and to do a little networking with other artists.
This week, it was back to Houston to pick up my painting that was featured at the Prize Gala…………and to meet with a gallery owner to leave the painting and five others in the gallery. I am very pleased to announce my association with the Jack Meier Gallery, 2310 Bissonnet. The gallery is a long time Houston gallery representing many very fine figurative and a few abstract artists. I'm looking forward to getting to know Houston a little better.
This is one of the acrylic paintings I left with the gallery…………. Watery, 40 x 40, acrylic on canvas. Also a good sized (30 x 30) encaustic on wood panel painting titled Pink Sky.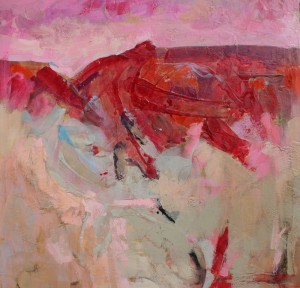 Whew…. whirlwind trip to Houston from the ranch yesterday morning. I loaded up the SUV with work to show some art professionals I have been talking with…and my Hunting Art Prize painting and headed to Houston about 8 am. Being slow as I am getting ready to go anywhere the past few years, I had to get up at 6am..plus I 'really' woke up at 5am.
I got to the drop off at the art services company checking in the work for the competition just before noon. Little Miss Garmin Nuvi gave me all the directions. I did have a back up print out though, just in case. I then headed over to check out the location where I would meet with the consultant and dealer. I found it and figured I had about 3 hours to kill until our appointment. I guess the 'great power' was there to help me have a smooth day. I got a call within 15 minutes telling me the schedule was moved up if that was OK with me…. Yes – Yes, so we all met. I think they liked my work. I'll be waiting to see how it goes.
Back home I headed by 1pm……………. 8 hours driving, 1 hour meeting. LONG DAY! but productive………..now to get all the work out of the SUV and back into the studio. I have new panels and canvases on order and they are ready. I'll pick them up tomorrow. Nothing like being 'prepared' for anything.