There is a lot of excitement building around here at the ranch and in the studio. I have several exhibits coming up in the next month.
The next one is a two person exhibit, Texas Women with Brushes,  at Jack Meier Gallery, 2310 Bissonnet, Houston, TX on May 4, 2013. The artists reception will be 6-8 pm on May 4, with the exhibit continuing through May 25. Please come by and say hello if you are in the vicinity.
Between the two of us you will see a different perspective on the land of Texas. LaNell Arndt lives on a farm in the hill country, and I live on a ranch/farm in the northeastern part of the state. She is a realist and I am committed to abstraction. It will be interesting to see the juxtaposition of the differing views of the land.
The largest painting I will be exhibiting is titled, Renewal, 48 x 96 inches, acrylic on two canvases.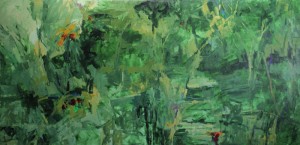 Some interesting information about numbers, numerology, astronomy, the earth, time and landscape have been occupying my mind lately. In this encaustic painting I have been using some of this information to address some of the symbols of numbers, and the counting methods used in megalithic astronomy. Just one interesting site is Sky and Landscape.com. At one point I found sites and books that tell you so many things about numbers you can become very confused……….especially since they do not all agree.
For my purposes in this painting I used the color green and a coppery hue sine I remember reading that was a metal associated with the number 7.  My style of painting usually has a land or landscape feeling so I wanted incorporate the land/landscape and symbols of time, numbers, etc.
I used the previously mentioned colors on a 24 x 24 x 2 inch cradled panel and used encaustic paint, medium and some oil paint sticks. Since in the megalithic times, time has been counted by using stones and tally marks used as stones, etc. to mark periods of time (day, month, year). The 7 small rectangles represent 7 of these time periods and the tally marks also the same.
Of course, no one needs to know this information about the symbols in this painting, they might just appreciate it for an abstracted landscape. Apologies…this image is a little too blue but the other one was a little too pink…it's just too cloudy today and this is a photo from my phone. It also has a haze over it that is not there in person…maybe needs more scraping and polishing and a brighter day.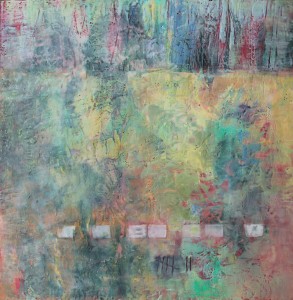 Counting Time  encaustic/oil 24 x 24x 2″
FANTASTIC…. Jeffrey Hirst is a fantastic teacher, artist and I hope new friend. The workshop with him at the Encaustic Center in Richardson, TX  the past few days was a delightful experience.
We explored how an artist can screen print into waxed surfaces, make collagraphs to use in waxed paintings or all on their own. I don't know if I will use the collagraph process that much since it is one that needs a press and I don't have one. I do plan to see if I can gather my own materials to use the screen printing process into my work…….whether in acrylic or encaustic. I think his methods will work well for my own personal art/painting personality.
Jeff processed some line drawings/images for us before the workshop from our own work………..and showed and gave us instructions to do this on our own in our own studios in the future.
Here are images of some of my work from the workshop………….The ones with the green are 12 x 12 inch squares on wood panel…others are small panels or paper.