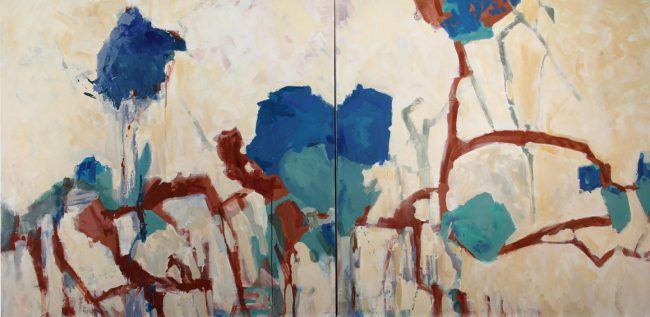 I have been slow to get back to you on how the two 40 x 40 inches canvases were progressing. All this last week I have had an earache, etc. BUT, finally I am through with this painting.
Whether or not it is successful or not is still to be determined. For the moment, it is finished and photographed. From the beginning I knew I set myself a challenge not having a tone on the canvas but I hate to become too dependent on something like that so now and then I leave it off.
What I like about this work is the rhythm set in the movement across the two canvases. I like the intervals between the shapes and the color is nice. It has been noted that I started with those large shapes in the middle. That doesn't bother me as I think that other shapes balance this fine. It was my intent as time went on the make shpes with paler color to denote a degree of layering. I am still not sure if that succeeded but it is what it is.

If this is still in the studio on down the line, I can always paint over like I have done so many times in the past with other paintings. In the meantime, it will hang out in the studio with me taking a glance over at it now and then.