For a long time now I've realized that my most successful (to me) paintings are those that address the painting of the negative or spaces between. Today, I got up to the studio for two things………to address the interstices in my paintings more consciously and to work with some new paint that had been sent to me to try.
Maybe I bit off more than I needed to with working with new paint AND trying to 'think' more :>). BUT maybe not. It is exhilarating and not a little scary when you venture out of your comfort zone. I didn't go too far but maybe there is a slight difference.
The paint is Chroma Atelier Interactive acrylic. It was their largest jars and a good selection although I had some substitutions from my usual set up of a palette. I'm used to all the Cadmiums and Alizarin Crimson in the Historical dark hue. I will say the orange I made from the colors sent is beautiful though and I can get by for some paintings with a mixture of crimson, magenta and a mixture for my violet. I didn't even open the Thalo blue though…although maybe for some other paintings I could give it a go.
The first thing is that this paint can be let dry like ordinary acrylic or misted with water or mixed with a medium that can slow down the drying process considerably. When I read about the slowness of just misting water, I figured…oops this not going to be my thing. I love drying fast, working fast and then being able to cover up or layer over…scumble is my middle name. But I promised so I had to get going. I had two 36 x 24 canvases left with a purple ground on them left from colony. I covered over the purple with some ochre and then started with the Chroma colors.
Oops, again…………this stuff is not creamy, it's a little hard to move around. The viscosity is really different. If you spray water on a color on the palette is is more fluid but not like my other paints. It didn't flow from my brush when I started covering over a lot of lines I made on the canvas with charcoal. Hummm..I had not intended to use the medium if it slowed down the drying but I poured some out on the palette and it works much better with the paint than just water. I just used the medium clear mid viscosity medium. I would compare it to fluid medium in other acrylics. I will have to investigate the thicker medium that is supposed to make the paint 'buttery' as I like buttery but I don't want to slow down the drying.
I finally got into the hang of working with it but without a lot of color mixing. To really get more paint down on the canvases this size I had to start mixing in some of my other paints as large amounts of neutrals to go with the stronger Chroma colors I had laid down.
During all this time I was thinking of those intervals I mentioned before. There will be more of these paintings with various interstices that I see everywhere… in the fences, in the trees, plants, hills and planes of my paintings.
SO… these paints will take some getting used to… but they can work for you especially if you want a longer drying time if you are switching from oil to acrylic or if you suddenly decide you need to go back in and try to re-open some areas for more blending.
Here is the diptych…….Interstices..……… 36 x 48………acrylic on 2 canvases.
caption id="attachment_936″ align="alignright" width="700″ caption="Interstices"]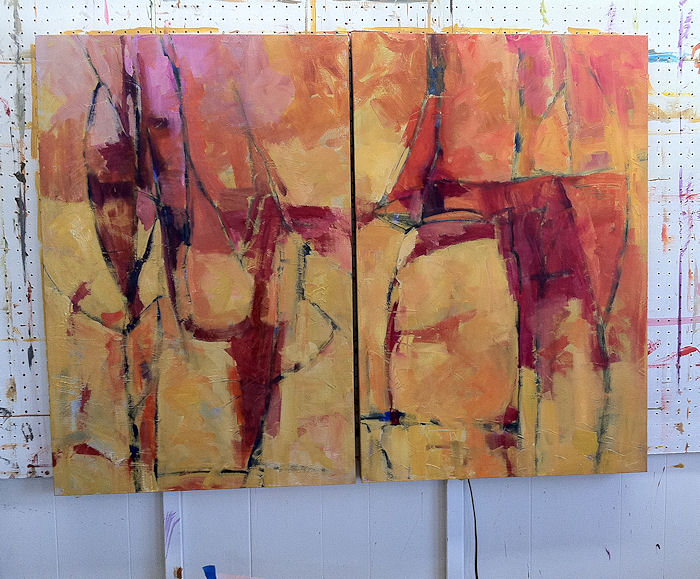 [/caption]
Related Images: