I decided I had worked long enough on those little 8 x 10 inch canvases trying out the oil and cold wax. I can't get the gesture in little paintings. I am better off working with collage when I work with a more intimate size. I got out a large (and heavy) 32 x 32 x 2 inch wood panel and set to work. First, since this is oil I needed to gesso this panel I had made for hot wax that should not use acrylic gesso. I got out the gesso I had not opened in who knows how long. It was pretty thick since it was in a gallon pail and I had half of it in there. It was really thick but worked fine. I laid in two coats and ten decided …what the heck I would also put some lightweight texture paste since it was okay for oils as well as acrylic painting.
The next day I started  mixing up the cold wax medium ( I only had a pint of Gamblin) with some variations of yellow, yellow orange and a tinge of red. I used a good bit of the medium and troweled and brayered it all around until it was covering the face of the panel. Oh yeah… I taped the edges of the panel except for the 1/4 inch face of the plywood that I planned to have paint on in the end. This is slower going that applying the ground with acrylic on canvas I can tell you.
I had some violet paint out on the palette so I just dipped into it and made marks with the diluted violet and a brush like I might usually do with my acrylic paintings. The only instructions I have for working with cold wax come compliments of Rebecca Crowell and her ning site, oilandwax.ning . Since Rebecca works so much differently than I do, I just have to wing it except for reading about the things I can or cannot do and there are not that many of them since you don't have to think of some of the technicalities of oil painting alone. The cold wax medium helps all the paints to dry without thinking of fat over lean, etc.
I was going to post the picture but it is on my FB Contemporary Abstract Paintings page here.   I have continued to work on this painting……..Ialso posted another layer on down the line on the FB page…………. This is what I have now.  This painting may get a little more work. In fact, it almost for sure will. I don't have plans at this juncture to make a big about face and change it totally.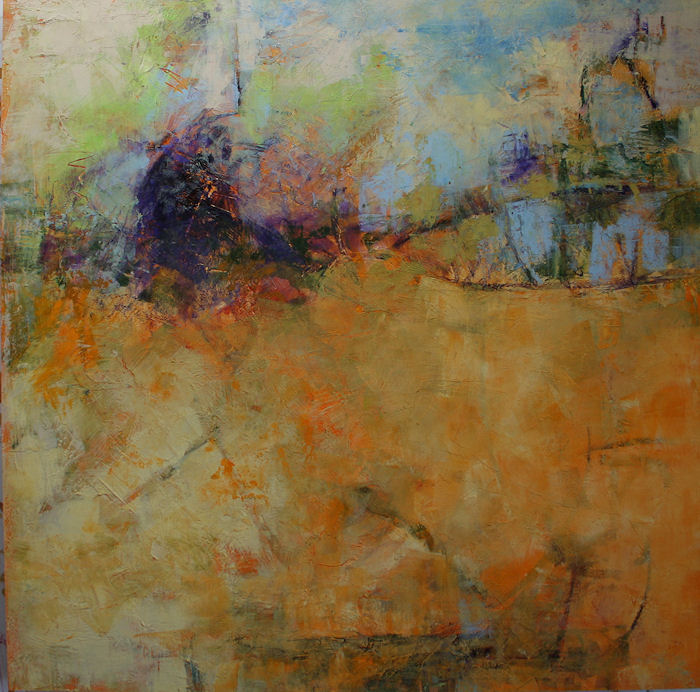 It looks like my paintings pretty much except in person, it is different due to the nature of the oil and wax. I still have not gotten to the point of using a retouch varnish or final varnish yet so these paintings will have a little more luster. They are matte in nature with the wax medium and some people prefer that. I am used to the more satin finish of my other work.
I'm already thinking…. what to title this as it initially used colors I think of in spring….. Maybe it should be titled, "Wishing for the Heat to End".  It also makes me think of the pastures down toward the creek bottom here.