Strange I know, but after returning from the Encaustic Conference in Provincetown, MA………..I have not had a spare minute to work with encaustic. First I got sick, then I had an out of town workshop to go to for a week. Then I got home with all the myriad of things to catch up on when you have not being doing much of them for a month.
When I did get back into the studio I had work on canvas to finish up…and some new experiments with oil and cold wax medium. Not to be one to start three projects at once…………..I waited until this afternoon to start up the melting of the wax. Nothing like waiting until about the 25-30th straight day of over a 100 degrees to melt wax is there?
I had been just thinking a lot about using this new super Hake brush I saw and ordered at the conference…along with it's own pan.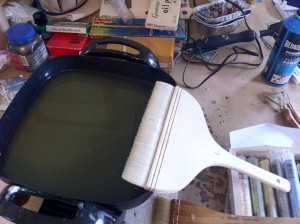 Whoa…. all 7″ wide. I didn't really get to use the special pan today as it didn't get heated up enough although my trusty electric skillet did a fine job of it. NICE to not have to make so many strokes across the board when priming my boards with medium.
Today I am working on five 10 x 10 x 2 inch wood panels…. I need four for a project but I had a full box of five…so why not?
I already had played around with my Paula Roland hotbox back  some time ago just making collage papers or coating found papers with wax medium and allowing them to dry. SO, now I have papers all over the place and want to start. WHERE am I going to start?  No clue really, but I finally decide to just begin with some sheet music papers I had. So I coated some more of them as I had only done a few previously. And I started looking through the papers for colors I might use for these pieces. I just have to go for it and see what happens.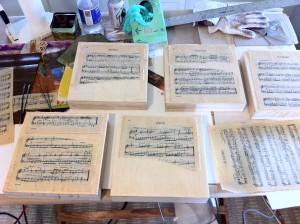 I don't know how much of these torn pieces of sheet music will show up in the final paintings. For now, I just tore them and laid them on the panels with two layers of medium on the boards. For now they are not down permanently. I am just moving stuff around and playing with arrangement. I may or may not put any color under the pages…for one thing, if I do, it will show through the sheet music. SO for now… I won't. With all this black and white (gray)… I need some color so I am trying out bright color like yellow and yellow greens………I cut it to fit in between the torn areas and just where ever the color and shapes take me.
It's getting hotter in here people. I have to make a few more pieces since of course, I don't have the colors that came to mind. That hot box is going and I am making a cad green pale paper…cool (I wish).
More arranging and cutting and tearing. I also went with a bronzy color for one…….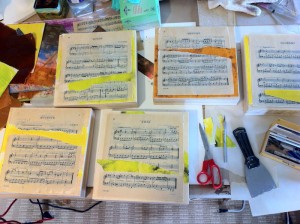 I finally decided to call it a day..umm, afternoon and left these as they are, not fused down or anything….but maybe ready for a cooler morning than it is right now in late afternoon.
to be continued………