Time is flying by. Tomorrow ..a week…wow. We have been to Orvieto, then to Perugia and then Cortona another day………then yesterday, Todi and Sienna.
Our little Fiat Punto is making the miles…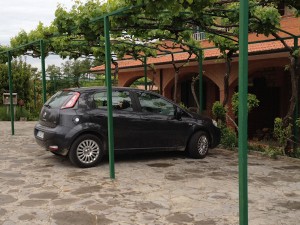 I'm beginning to think Todi might always have a lot of stormy skies or rain rolling in… Last time huge storms rolled in on us, later inspiring a few paintings.
We were disappointed in Cortona not to find our glass jewelry artisan that we found last trip… not to be deterred, I did find a great looking handbag. It's a little big, but as the salesman noted….."for every day, you do not have to fill it up."  LOL.
Todi was a stop for us on the way to Siena where we saw the gorgeous Duomo again. Of course, remembering the beautiful red handbag I got there last time, we had to make some of the shopping streets………this time I fell in love with an amber and sterling ring…really cool …and a blue glass inexpensive dome style ring. By the time you walk this much up and down, you might consider looking at shoes. I did…comfy kind but much to the relief of the old pocketbook……not in my size.
The reason we went to Perugia the second day was something went wrong with the connections to the card for Carolyn's new wonderful camera. Our hosts found a place there with an authorized service center so we are crossing our fingers that they will be able to fix it. Maybe next week………in the meantime, I-phone/I-pad to the rescue.
In Sienna, a huge amount of people showed up for what looked like antique and luxury sports car showing…….we also enjoyed a nice lunch at a bistro right at the Duomo piazza….veal scallopini Limone……
Related Images: