I've been in the studio heating up the encaustic medium and paint again. I kept thinking of what I might take to The Encaustic Conference , in Provincetown, MA so I am playing with encaustic on paper and the hot box………..but I am also thinking of ways or concepts for using the theme '7'.  I dreamed of ways and got it half way in my mind……….then I would think about it again and think my concept was too literal and not really like I paint. SO……..I just set it aside.
That said…….I did set up of this idea up on a small 12 x 24 panel. Within 30 minutes I could tell, this just was not going to work for me although I had some of it all drawn out on two panels.
I just started mixing paint and before I knew it, I had the 12 x 24 covered with my landscape oriented work again. The encaustic really slows me down. That has it's good points and bad points. By the end of the day, I decided that next session I would just add a bottom to a multiple panel or diptych piece 24 x 24 and see how that went.
It's a nice painting….fresh and not over-worked. I'm still looking for something to challenge me but not in such a way as it is not my work. I want the slower evolution of my work to become better and better.
If I come up with something for the '7' show to enter, I'd love it, but if I don't I will at least have a whole lot of new encaustic paintings in the studio.
This is the untitled diptych painting (taken with i-phone camera)………36 x 24x 2 inches on wood panel, encaustic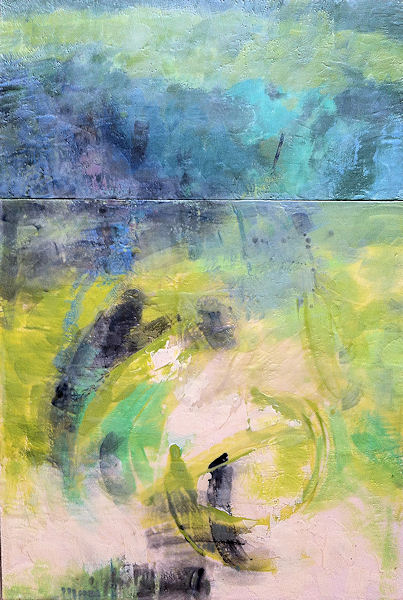 Related Images: