There is a lot of excitement building around here at the ranch and in the studio. I have several exhibits coming up in the next month.
The next one is a two person exhibit, Texas Women with Brushes,  at Jack Meier Gallery, 2310 Bissonnet, Houston, TX on May 4, 2013. The artists reception will be 6-8 pm on May 4, with the exhibit continuing through May 25. Please come by and say hello if you are in the vicinity.
Between the two of us you will see a different perspective on the land of Texas. LaNell Arndt lives on a farm in the hill country, and I live on a ranch/farm in the northeastern part of the state. She is a realist and I am committed to abstraction. It will be interesting to see the juxtaposition of the differing views of the land.
The largest painting I will be exhibiting is titled, Renewal, 48 x 96 inches, acrylic on two canvases.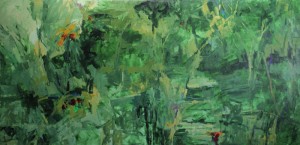 Related Images: