After being missing in action in the studio through the holidays, I got myself back in the studio the past few days. Ahhh, it is a wonderful feeling to be there. I have been starting a couple of new oil paintings that will finish up in the new year 2014. OMG, 2014. I just know a lot of good things will come with this new year.
I know you get tired of hearing about all the layering, editing, mark-making, and then covering up and scraping back. But what can I say… that is what I do as I try to find my bliss. I didn't say it was easy but it is such an unexplainable feeling when something finally comes together and you know this is what it is all about.
HOWEVER, I am not there yet with these two 30 x 30 oil paintings. Oil is a lot slower process for me……harder to get the paint down, messier, longer drying between all the layers….but such a wonderful, velvety richness when you do get through it all.
Here is what I have after a couple of days of layering, editing ,etc…. I will pick back up on these in the New Year. Thank you for tuning in while I talk to myself about my work and what is going on in my life that affects my work.
Happy New Year…..2014 is going to be wonderful.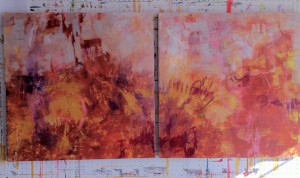 Related Images: