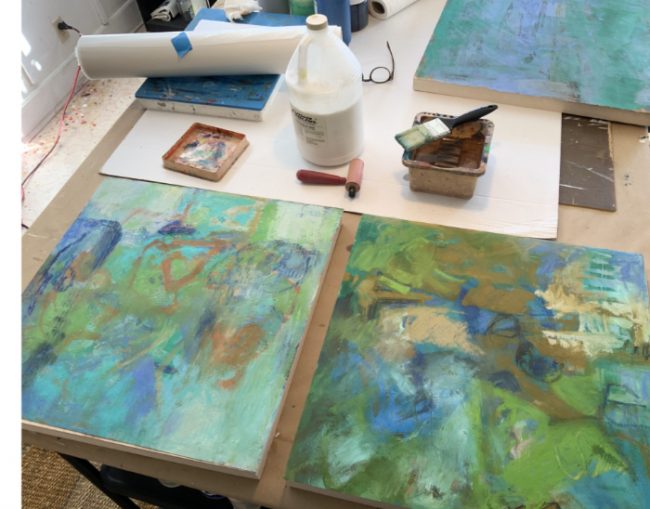 I've been working a lot on paper lately to conserve space in the studio. However, there comes a time when you have to decide if you are going to go to all the trouble and expense to use a frame, matt, and glazing or just more simply mount the work to wood panels This is that week.
Some people tell me they use acrylic gel medium but I have always found it easier to use a liquid gloss medium. First I make sure the whole board is covered with the medium, then I do the same for the back of the paper. This gives me more time to place the painting on the board. I, then smooth it all down gently from the center to the edges with a damp sponge and/or a soft brayer. I don't press hard or the paper might stretch. I, also, am careful to wipe excess medium that will still seep out from between the paper and the panel.
Next, I place a sheet of glassine on the surface of the painting, lay a piece of cardboard or foam core over to help distribute the weight of all the books I pile on top. Then I wait twenty-four hours before removing.
Lastly, I trim the inevitable discrepancy of paper size to the panel size with a very sharp utility knife. Don't do this until the paper/panel is bone dry or you will have a problem.
I haven't decided yet what finish I will use for the edges. Usually, I just use a light wood stain. Sometimes, I even decide to go ahead and use a floater frame. At least I don't have to cut a matt and use Plexiglas/glass.
The two oil paintings in the foreground are 20 x 20 inches and are titled, Finding My Way 1 and Finding My Way 2.
Related Images: